FINE GUNS
BOOK CENTER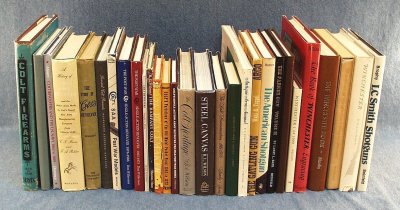 Check out this list of interesting and rare books about some of the great firearms and gunmakers in history. Order now!
Quantities are limited!
(Minimum $15.00 shipping and handling per order)
Stock #
Title
Author
Price
ARS Book
ARS Mechanica Book, The Ultimate FN Book
Anthony Vanderlinden
$85.00
28437VAN
Allied Rifle Contracts In America, 1914-1918
Luke Mercaldo
$49.99
Browning
Auto5
Browning Auto-5 Shotgun Book
Shirley & Vanderlinden
$63.95
63537VAN
Colt and It's Collectors
CCA
$30.00
68387VAN
FN Mauser Rifles: Arming Belgium and the World
Anthony Vanderlinden
$68.95
Seven
Serpents
Seven Serpents: The History of Colt's Snake Guns
(Personalized Autograph On Request)
Gurney Brown
$99.95
34582VAN
U.S. Military Automatic Pistols 1920-1945, Like New
Edward Scott Meadows
$50.00

Cherry's Fine Guns
3408 West Wendover Ave. Suite N
Greensboro, NC 27407
Phone: 336-854-4182 * 24-Hour Fax: 336-854-4184
(Showroom Hours Tues-Thurs 8 to 4:50, Telephone Hours Mon-Thurs 8 to 4:50)

E-mail us here at Cherry's!

Return to Cherry's Home Page!