FINE GUNS
HOME
We Need Guns!
Cherry's is always looking for good antique and modern firearms. We accept single pieces, complete collections and estates. We also accept pieces for consignment sale. If you own, or know of some fine firearms that are looking for good homes, call us here at Cherry's. If you prefer to E-mail us, please include a good description of what you have for sale or consignment, and don't forget to provide a daytime phone number where we can reach you.
Best experienced with:

Click here to start.

NEW STORE HOURS STARTING AUGUST 1ST!
PLEASE READ!
Our office hours are Monday thru Friday, 8 to 5 east coast time. We are out of the office occasionally looking at collections or attending gun shows, so you may want to call first if coming in from out of town to make sure we'll be here.
ATTENTION!
Cherry's will be CLOSED on Thursday, September 29th. We will reopen on Monday, October 3rd.

SPECIAL ANNOUNCEMENT!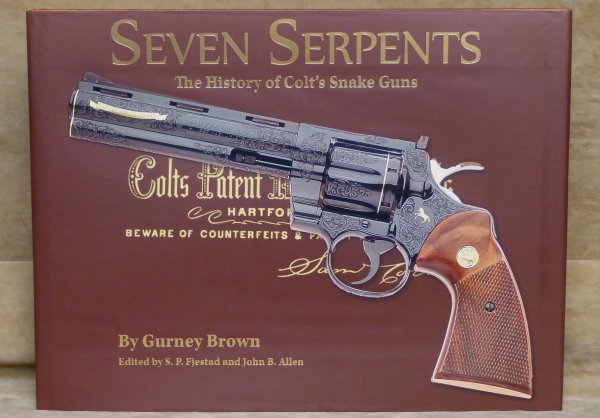 Seven Serpents: The History of Colt's Snake Guns
New book by Cherry's Vice President Gurney Brown, covering all aspects of Colt's Seven "Snake" Guns. 344 pages with more than 350 high resolution photographs. Only book of it's kind and certain to be an invaluable reference to all Colt Snake collectors. No Colt library is complete without this new book. Includes information on each "Snake" gun, boxes, manuals, serial numbers, production codes, and LOADS of other previously unpublished information. Large landscape format (12 1/2"x9 1/4"). Ideal Christmas gift! Get yours now! Personalized autograph on request.
Seven Serpents $99.95
(add $15.00 S&H)


(Site Last Updated 09/28/2016)


Cherry's attends gun shows all across the country. Please come by to see us at the following shows:
| | |
| --- | --- |
| Gun Show Calendar | Gun Show And Location |
| March 4-9, 2015 | IWA Show, Messe Center, Nurnberg, Germany |
| May 15-17, 2015 | Colorado Gun Collectors Show, Denver Merchandise Mart, Denver, Colorado |
| July 24-26, 2015 | Missouri Valley Arms Collectors, KCI Expo Center, Kansas City, Missouri |
| August 29-30, 2015 | Greensboro Gun Show, Greensboro Coliseum, Greensboro, North Carolina |
| October 1-4, 2015 | Colt Collectors Assoc. Show, Embassy Suites, Frisco, Texas |
| January 20-23, 2016 | Shot Show, Sands Convention Center, Las Vegas, Nevada |
| January 22-24, 2016 | Las Vegas Antique Arms Show, Riviera Hotel & Casino, Las Vegas, Nevada |
| January 30-31, 2016 | Greensboro Gun Show, Greensboro Coliseum, Greensboro, North Carolina |
| March 4-7, 2016 | IWA Show, Messe Center, Nurnberg, Germany |

NEWEST ADDITIONS!!



New Store Hours Starting August 1st!
NRA and Remington Licensed Jewelry!
Special Savings From Pedersoli!
Introducing Sam Cherry Engraving!
Guns From The Collection Of Richard Petty!
Index

Ordering And Shipping Information

Will we buy your used guns...? You Bet!

Links To Other Interesting Gun Related Pages

E-mail us here at Cherry's!

We're The World's Leading
Commemorative Gun Dealer!
3408 West Wendover Ave. Suite N
Greensboro, NC 27407
Phone: 336-854-4182 * 24-Hour Fax: 336-854-4184
(Open Mon-Thurs 8 to 4:50, closed Fri, Sat & Sun)



All photos, firearms graphics, ad copy (including the Cherry's logo) and the Cherry's Complete Commemorative Gun List are the property of Cherry's Sporting Goods, Inc. and may not be used for any purpose except personal reference without express permission.